According to Google:
97% of consumers search for local businesses online.
If you don't have a solid plan for creating visibility for your business, those people looking for your products and services will find someone else instead of you.
So what can you do that doesn't cost a fortune?
Many businesses that we work with are surprised to find out that a great many of the most effective tools you can use today to get visibility for your business are free! Some of the others are either relatively inexpensive or can be set up in a way that you're only paying when you're getting results.
Here's a Great Example of Something You Can Do for Free
You have probably noticed by now that in the last year or so, Google began rolling out a change to the way local search results work. Instead of having a separate map showing up on the results page, the map listings have been merged with organic search results on many local searches.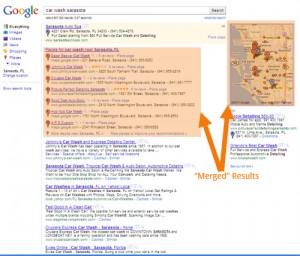 For example, in the picture here, I've run a search for a car wash in the city where we're located. Google tries to show me relevant results from organic search as always.
What's different now is that they are also giving me the locations of some of these businesses using the map on the right and "pins" with corresponding letters in the search results. We'll refer to these as the "merged" listings, because the results are based on 2 things:
the natural organic position of the website corresponding to the business on the map (based on relevance to my search terms)
the rank of the map listing for the business based upon a variety of factors (including proximity, keywords, reviews, and more)
What makes this different is that you need to pay attention to your map listing because it is now affecting the rank of your website! Google may have already placed your business on the map using information they've gathered from other sources. If you haven't already done so, it's a good idea to claim your listing so that you can correct any inaccurate information and also provide additional details to help make the listing more relevant.
Here's what to do:
1. Find your business listing on the map by searching for it at www.google.com/maps

2. If you find it there, click on the name of your business in the list on the left side of the map view.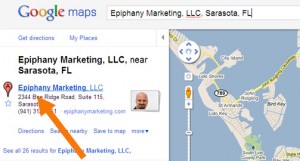 3. Click "Edit This Place" on the right-hand side above the map
If you don't find your business already listed, then go here:
Either way, from there you'll need to login to your Google account or create a Google account. Then you can follow the instructions to edit the information in your listing.
The steps above don't cost you anything, take only a few minutes, and can make a big difference in your visibility.
The frustrating thing is that you don't know what you don't know. And where do you turn for good solid information about what you can be doing to gain visibility through:
search engine rankings
Facebook, Twitter & social media
mobile geo-targeted services like Foursquare, Facebook Places and even Google Maps
and other means?
Well… we're here for you. In fact, that's why we created this webinar taking place today at 1pm Eastern (replay available here). In fact, on the webinar we'll be showing additional free options for promoting your business as well as some important strategy to increase your effectiveness! There are still a few spots left so you may still be able to get in if you register right away. Everyone who attends will be automatically entered into a drawing for $100 in free Google advertising!
This event is absolutely free. We do these from time to time because it's a great way to introduce you to the small business marketing training programs we offer. There are no obligations and no strings attached, so register right now watch the replay so you don't miss out on this valuable information!