We've all done it.
You find (or create) the perfect image… you upload it to Facebook… you write the perfect text to go along with it… and boom!, you publish it on your page.
Sometimes it's instant. Sometimes it's hours later. But somewhere along the line, you spot the typo. Or you realize you forgot the link you intended to add.
But it's too late. The post already has "Likes" or "Comments." You can't take it down because you don't want to lose the engagement you've gained. What to do?!
Good news: you can edit the text you wrote when you posted your image.
So far… this only works for image posts. If you uploaded an image at the time you created the post, this is available to you. (If you only wrote text, you're out of luck for now.)
Step 1: Locate the Image on Your Page's Timeline
Visit your page, find the image, and click on it… like this: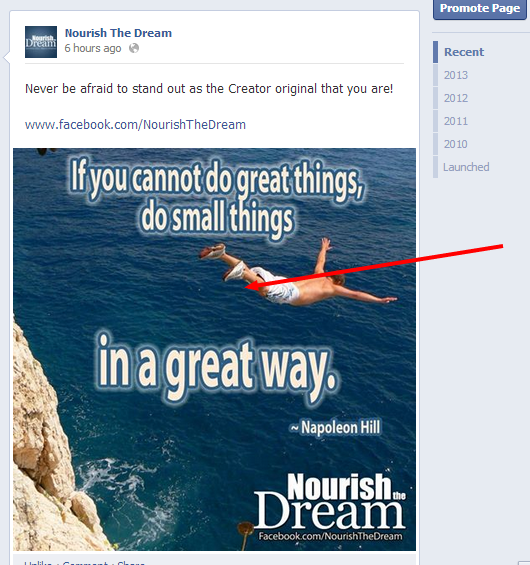 Step 2: When Viewing the Image in "Theater" Mode, Click the "Edit" Button
You'll find it here: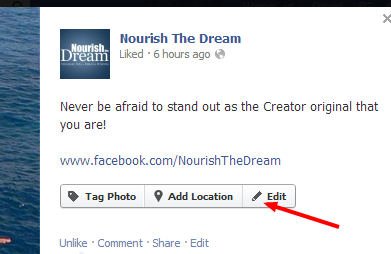 Step 3: Click in the Text Box and Edit Away
You'll see that the description text becomes editable, like this: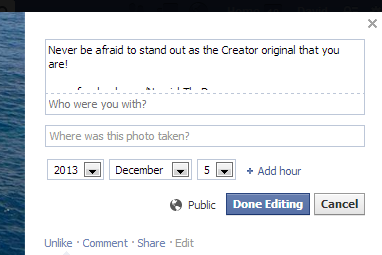 This box is a little tricky. If you have multiple lines of text, it's hard to "scroll" inside the box, so I recommend that you click once to put your cursor in the box and then use your arrow keys to navigate around.
Once you've made the changes you wanted to make, click the "Done Editing" box… and voila!… your changes are made!
Questions? Fire away in the comments below…