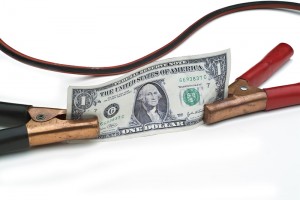 Well 2009 is in full swing. My question for you is:
How does your pipeline look?
If you're not satisfied with the number of new prospects or leads coming in to your business, it's time to get serious about what you're doing to bring them in. Here are 5 ways to gain new customers on a budget:
Get to the Top of the Search Engines
In particular, pay attention to Google. Most strategies that help you get to the top of the Search Engine Results Pages (SERPs) on Google will also work well with the others.  Don't know how? Training is easy to come by these days, and you can do it yourself or put a member of your team on it. If you're a salesperson, start blogging about your customers and their needs.
Make Use of Social Media
Once the exclusive territory of geeks, social media is a now easier-to-use than ever before. Two important ones for connecting with people and creating exposure: Facebook and Twitter. The demographics will surprise you — chances are your customers, buyers, prospects, decision-makers, and champions are active. 2 tips: don't commit these social media sins, and put a strategy in place to avoid the time suck.
Communicate Frequently With Customers (Past & Present) and Prospects
Given the information overload we all deal with, it's easy for the people you already have relationships with to forget about you. It's not necessarily that they want to. They're just as busy as you are. Obviously it's possible to communicate too frequently, but chances are you're to busy to do that anyway. Tip: make sure your communication has value.
Revisit Your Message
How many aspects of your life can you count that haven't changed substantially in the last 12-24 months? Chances are your customers' businesses are the same way. Is your message out of date? Does it accurately reflect the way that your products and services serve your customers and prospects changing needs? Tip: the message you're sending may not be what you think it is.
Ask Great Questions and Listen More
Given the rapidly changing business landscape, you need to know — now more than ever — what your customers are thinking. Are they cutting budgets or changing spending patterns? What problems are they trying to solve? Take them out to lunch, out for coffee, or create reasons to get on the phone and find out what's going on. What you learn will surprise you. It's also a great time to ask for referrals — your lowest cost customers ever!
What strategies are you implementing right now to load up your pipeline with new business? Certainly, if you need help with these or other 21st-Century methods of keeping your pipeline full, we'd be happy to help. Our distance-learning hands-on training and coaching program is getting phenomenal results with our students.  Of course, consulting services are available as well. If you're interested, drop me a comment.
By the way, we practice what we preach. I dare you to follow me on Twitter.