It is Christmas week, and many of us are busy baking, wrapping and singing carols. For fun, we thought we would provide you with a simple, yet delicious, recipe for Peppermint Bark...a holiday favorite, this confection is sure to delight young and old (and you can find sugar-free ingredients, too!)
Ingredients:
12 ounces semisweet chocolate chips
16 ounces white chocolate chips
1/2 teaspoon peppermint extract
3/4 cup crushed candy cane
Directions:
Place the semisweet chocolate chips in a medium bowl and microwave for 30 second intervals until melted. Stir until smooth
Spread the chocolate into a roughly 9″ x 13″ rectangular pan on a piece of parchment paper. Place in the fridge for 15 minutes to set
Place the white chocolate chips in a medium bowl and microwave for 30 second intervals until melted. Add the peppermint extract and stir until smooth
Spread the white chocolate over the semisweet chocolate layer. Top with crushed candy canes. Let harden in fridge for about 20 minutes, then break into pieces and serve.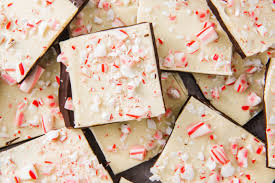 The Meaning of the Season
This week and next we will be celebrating the end of 2019 and the beginning of 2020! And next year we get an extra day – it's Leap Year! As we all pause to reflect the past twelve months and make resolutions for the coming twelve, we should remember that the week at hand represents hope and new beginnings. Regardless of what happened in 2019, 2020 represents a fresh start.
Whether it is the Star over Bethlehem, the Menorah lamp that stayed bright for eight days, the tradition of the harvest and unity or just time spent with friends and family, this is the time of year that brings light and joy to multitudes around the world. For some, it is a difficult time, whether it be due to health issues, financial difficulties, the loss of loved ones or just being alone. We hold you in our hearts and prayers, and hope that you find peace and joy.
All of us at Grow the Dream wish all of you a very Merry Christmas and a blessed New Year. May love and peace surround you and those you love this holiday season and may the coming year bring you health, prosperity and much happiness.